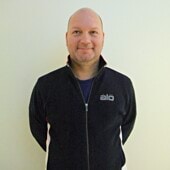 Roger Stenmark
Production Manager Paint – Production
We are constantly improving
How did you join Ålö? In a few words could you describe your main tasks in your position?
I came to Ålö from Volvo Trucks, Umeå back in 2007. I started at Ålö as a Production Manager for the welding line and the paint shop. Today I work as a Production Manager for our paint shop. My main task is to lead the paint shop with safety quality and cost in mind. I also have administrative responsibility for our chemical database.

What is your professional background?
I am educated as a welder, but soon found interest in production management. I got the opportunity to become Production Manager while working at Volvo Trucks. After gaining valuable experience from Volvo production I took the chance to start my career at Ålö.

What motivates you at work?
To see my department and the whole of Ålö develop, and with everyone's efforts we are constantly improving.