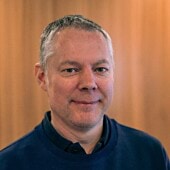 Graham Gould
Technical Support and Product Specialist – Sales & Marketing
I get great satisfaction from delivering good quality
How did you join Alo? Tell us about your journey within Ålö so far.
I joined Lawrence Edwards Ltd in 1998 which was purchased by Alo AB in 1999, so this year in 2019, I will have been with the company for 21 years. My original role within the company was a service engineer for the Welsh and Midlands area of the UK, but as in many jobs, the role always evolves and I started to look after the whole of Great Britain for technical issues and warranty processing.

In a few words could you describe your
main tasks in your position?
Because we are a small team at the UK office, my fingers have to be in many pies, from technical support (office and field), warranty, contact R&D, sales support, shows, product specialist, office IT as well as spare parts. So this is a fulltime-plus job and I also work very closely with my colleagues in Sweden.
What motivates you at work?

I get great satisfaction from delivering good quality, well informed advice and to ensure products meet the high quality expected. It is also very important to be always at hand to resolve technical issues and to do your utmost to deal with every matter. My phone is almost constantly ringing, with dealers and end customers calling for my expertise.
I'm pleased to be part of a company that's innovative and responsive to customer feedback.