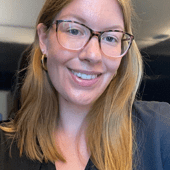 Rebecka Forsberg
Accountant – Human Resources, IT, Finance, Logistics & other support functions
It's exciting to work in a global company and have colleagues all over the world but still be able to work locally
How did you join Ålö? In a few words could you describe your main tasks in your position?

I started at Ålö as an intern in September 2020 during my studies within accounting, later that year a job position was opened and I was employed in March 2021. I graduated In June 2021 after Ålö gave me the opportunity to finish my studies while working. My main tasks are process payments to our suppliers, bookkeeping, verify invoices against purchase order and cash-flow forecast. Monthly bank- and balance reconciliations as well as intercompany reconciliations.
What type of background is needed for your job?

You need to be interested in economics and enjoy working with numbers to thrive in my role. Background within finance is preferable of course but I started here with almost none experience.
What´s the best thing about working at Ålö?

The opportunity to take on a lot of responsibility and It's exciting to work in a global company and have colleagues all over the world but still be able to work locally.
Can you describe Ålö with three words?
Ambitious, participation and internationally