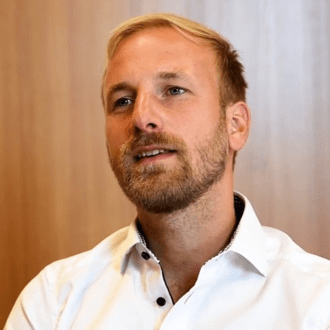 Gustaf Lagunoff
Head of R&D, Mechatronics – Research & Development
There is a great team spirit and I get to learn new things every day

How did you join Alo? In a few words could you describe your main tasks in your position?
I knew of Ålö as an interesting company since before and when I got the opportunity to join as responsible for Control Systems (today Mechatronics), I took the opportunity! In my work, some time is spent on improving current products or services but mostly on developing new, which I like a lot! Our team is responsible for the design & validation of our mechatronics portfolio, such as, electronic control units incl. software, hydraulics, user interfaces etc. but also our digital services to end-customers. In addition to this I also work closely together with my colleagues within project management and business development which adds commercial questions to my working day.
What type of background is needed for your job?
Our products are a mix of mechanics, hydraulics, electronics and software – if you bring them together you get what is called mechatronics. If you are an engineer with knowledge in any of these fields and at the same time can see synergies by combining them all, then you should join our team! For me personally I have a background as an R&D engineer and project manager in the automotive industry, focused on mechatronics product development.
Why is Alo an attractive employer?
Ålö is a market leader but at the same time never ignores that there is always more we could do to improve and develop our products, and that is important to me: continuous improvement. On top of that there is a great team spirit and I get to learn new things every day. Come join our team!