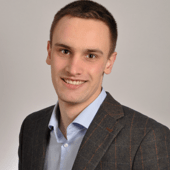 Hendrik Krohn
Intern from Germany – Students and Interns
Hendrik joined our Global Quality team in Umeå, Sweden in April 2022 and he is an intern from Germany that will be with us for 3 months. We have done an interview with Hendrik to hear more about his background and what he will do during his internship.

Background:
Before working at Ålö I worked for different companies in finance departments, including a forklift manufacturer. I studied business administration at Universität Hamburg.

What was it that attracted you to come at Ålö in Sweden?
After my bachelor's degree I was interested in gaining work experience abroad and the case study project on the implementation of an Online Warranty system aroused my interest.

You have now been with us for a few weeks. What is your first impression?
I have been very warmly welcomed by Ålö and I enjoy working on the project. On the positive side, I perceive that on the one hand I am always supported during my work, but on the other hand I have a lot of freedom to work independently.

Tell us more about what you will do during your time at Ålö?
The first step of the project on warranty handling is over and we figured out the internal problems we have in warranty handling at the moment by surveying all our warranty handling operators. In the current step we're surveying stakeholders of the warranty processes, getting an overview of all software alternatives on the market and try to match our process requirements with the software functions. The last step will be to set up a business case based on the generated information to compare a potential Online warranty registration system with the current way warranties are handled at Ålö to provide a basis for the implementation decision.